Yesterday it became official! My dear friend Jodie Lynn became Mrs. Hopewell! Jodie has been an incredible friend and support system to me the last few years and I couldn't be happier for her now. Jodie not only married the love of her life, but is also expecting a baby boy in September. When I look at JaQuan and Jodie, I see a fun loving, passionate, and easy going couple with incredible faith and unconditional love. Jodie has always done things her way, and her day, although unconventional, was incredibly special and true to both her and JaQuan. I would never have picked anyone else for you Jodie, I'm so glad God brought you to JaQuan, and him to you. I can't hardly wait to meet baby Jayce! Is it September yet? God Bless :) (oh yeah, and some day i'll learn how to just pick a few photos for the blog, but for now..another long photo post!)
Breath Jodie, just breath!
meet the darkest church ever. natural light=zero. It is pretty though!
so glad I caught this...real men hold flowers ;)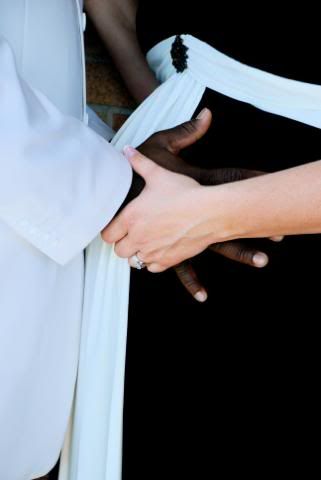 this is great in color too, but i resisted the urge to put both up ;)